InstaFashion: Fashion, Beauty, DIY & Nail Arts
The Application Was Trending #7 In Play Store Beauty Category
InstaFashion: Fashion, Beauty, DIY & Nail Arts
Instafashion is a one stop shop for all your DIY beauty needs. It is the place you come to when you want to find out what your favorite blogger has to say about a particular beauty product, diet or piece of apparel.Browse through extensive data on makeup, fashion, beauty, health, food and DIY projects for men, women and children. Get varied reviews on each post and post your own experiences too.Fashion Feeds – This tab is for the eternally stylish and for the up and coming avant garde fashionista. Get updated news and information on everything fashion for men, women, children and pets. Want to know if the pink overcoat is in this season? you shall find it here. Wondering if the new style of pants are worth the hype? We have your answer.Food – Let's face it! Food has to be the biggest blessing of them all. What could be better for an ultimate foodie than one place where they can get recipes for their favorite dish and also try a fusion dish which is suddenly garnering attention. Not to mention, all the little tips and tricks one can pick up from a cook's personal experience.Beauty – From the newbie to the master, this app has everything one needs to know about beauty. Extending from skincare to makeup to trends to bloggers, it's all here for your pleasure. Do all the users have the same opinion about a newly launched product? Which product ties cohesively with what skincare? Best products for a particular skin type, dupes to your high end products – all that and more…DIY – It's the best time for all Do-It-Yourself kings and queens out there. If you have an itch to try your hand at something new – whether it is a new face mask or an extra shelf, this is where you ought to be. Spend your time browsing through interesting projects or contribute to it. Brainstorm with fellow users and have the time of your life seeing your projects come to life.
Nail Art – Beautiful nails grab attention to your graceful hands and give a general aura of style and polish. Find the best place in town for a relaxing mani-pedi or just do it at home. It's all here at your fingertips. Literally.
Health and Fitness – The best place to invest your time and energy in. The first thing you should think about. Your main focus in life, no matter what age, gender or nationality you are. Health and fitness is always in style. When you feel good, you look good and what better way than to educate yourself in it. Instafashion gives you instant access to a plethora of health and fitness forums, chat rooms and blog posts. From pilates to Zumba, from yoga to krav maga – join all discussions that interest you. Learn a variety of techniques to achieve your desired results, then thank us later.
Henna designs – The latest trend to take the beauty empire by storm is certainly henna designs and henna tattoos. Whether you are simple and sophisticated or you are a design junkie, Instafashion has something for everyone. Find out the latest trends in henna design, tips to intensify color, alternate options for people who are allergic to it or simply take visual pleasure from all the wonderful mandalas. You could also contact various design artists in your area and indulge yourself in this chic trend. Do remember to tag us when you gloat all over your social media.
Dresses – What to pack on your upcoming vacation trip? What would look best at the big meeting at your workplace? What would flatter you most when you meet your husband for a date? From casual to formal to cocktail to maxi across all price ranges. Sales and amazing deals – get all this information and more over here. Instafashion is highly interactive and over here, we love to inform you and learn from you. Feel free to participate in any and all discussions and enlighten us.
Instagram: https://instagram.com/instafashionapp/
InstaFashion: Fashion, Beauty, DIY & Nail Arts
Solution Screenshots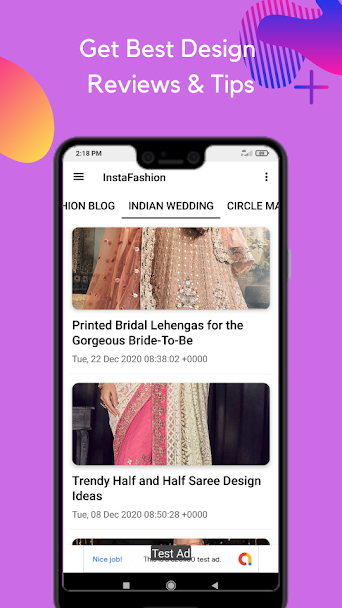 Need help with similar project?
We can recommend the best solution that suits the needs of your organization in required time frame.
Get in touch with our team for more details & get your problem solved via technology.
Get In Touch