As a full-service ecommerce development, Delta-i Software meets the need of B2C and B2B ecommerce businesses solution
Ecommerce website design and development
Website integration with back-office processes and in-store operations
Customer experience personalization
What Ecommerce Development Needs Do You Face?
We respond to varied development needs with expertise ranging from high-performing infrastructure setup to user-centric web design and ecosystem implementation
For some of you, our involvement as an ecommerce development and consulting partner will mean a powerful business launch with the right technology stack. For others – a possibility to give their business a fresh start by re-platforming successfully or growing into an omnichannel venture.
1) Launch
Our involvement is your possibility to start getting ROI early on the road. We give you a truly strong guidance to embrace all the technical possibilities at hand and align them with your business goals.
Technology consulting
Competitive landscape analysis and UX research
Ecommerce website design
Ecommerce ecosystem design and implementation
2) Optimization and growth
Improve customer experience, unlock new sales opportunities, grow and expand your business, monetize new market trends – Delta-i Software will be your reliable partner along the way.
Investigation of hidden pains and needs
Back-office automation and cross-system integrations
Customer experience improvement: UX and UI redesign
Loyalty building
3) Migration
We advise on migration when the current ecommerce platform in use is ineffective for your business. Our golden migration rule – we don't look for a better ecommerce platform, but an optimal one.
Current solution revision
Technology consulting
Calculation of the total ownership cost
Custom design changes
Business and SEO data migration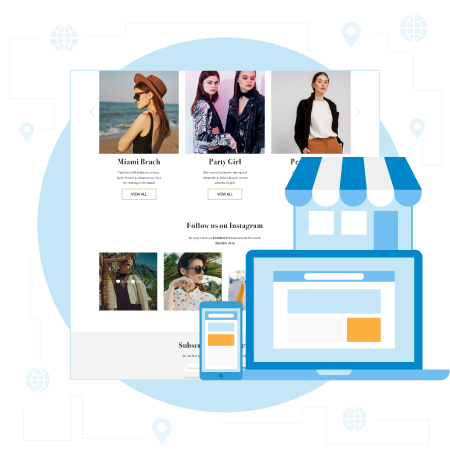 4) Omnichannel retail
We know two keys to omnichannel success – fully integrated customer experience across offline and online sales channels and automated back-office processes allowing for your full visibility and effective team work.
Ecosystem architecture
Ecommerce launch
Back-office automation
Ecommerce website development
to create a winning digital experience and achieve tangible conversion success with:
Mobile-first approach
Visual design
Website performance
Website architecture
On-site personalization
Upsells and cross-sells
Custom product builder
Digital payment
Checkout optimization
Ecommerce integrations
to automate your back-office processes and streamline customer experience with:
Procurement management
Production planning
Product information management
Distribution management
Marketing automation
Customer experience personalization
Order management
Customer support
Data analytics
Thinking of having App for your E-commerce?
What you will get with the help of e-commerce mobile app development
You get a mobile version of the online store which can receive and process orders from any mobile device. Absolute advantage of the retail shopping app development is its customized services and traditional interface structure of a typical online store.
Searchable retail catalog;
Smart search filter by goods and options;
Different types of payment acceptance;
The detailed description of retail goods;
Communication with clients via push notifications;
History of orders and surfing;
Geolocation-awareness search
Stages of e-commerce application development
1) Product idea development and business expertise
People come to our company to realize their idea of a mobile application for the retail industry, web resource or automate business processes. We conduct free business-expertise, advise the client and finalize the ideological component of the project, taking into account the needs of users.
2) Project evaluation and proposal
The project team is evaluated by the development team. After that, the client receives a preliminary commercial proposal for the development of the e-commerce application.
3) Prototyping
Understanding what the users expect from the e-commerce application, we proceed to the prototyping process. A competently built interface is a guarantee that the user quickly navigates, how the e-commerce application will help solve his problem. You get an opportunity to look at the functionality of the future application without the software part
4) Product design
Draw the design of all screens and states of the e-commerce application elements. We use the recommendations of Google and Apple to design the e-commerce application. We take care that the graphics solutions are understandable and convenient. You get a design that will set you apart from the competition.
5) Backlog and development contract
Meeting with the product-hunter, discussing the details of the project. The team develops backlog for the whole project together with the customer. After the approval of backlog, the contract is signed with the customer.
5) Planning
An agreement with the customer on what development tasks will be performed.
Talk to a member of our team
We can recommend the best solution that best suits your requirement, scale & scope.
Contact Us